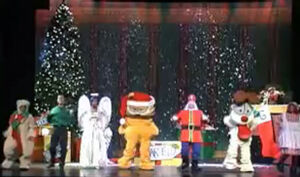 A Very Special Garfield Christmas is an off-Broadway musical stage play featuring Garfield, Odie, and several other characters. The musical stage play only is in California theaters.
Book
The stage play opens with Jon Arbuckle (portrayed by a real actor) who introduces the audience into the play. Odie comes in, (Odie is costume-made portrayed), and he joins in to sing the audience Rudolph the Red-Nosed Reindeer. Then, Jon and Odie wait for Garfield to come, so they sing Hey Garfield! for him to come out because without him, there will be no show. Garfield came in, complaining that he was taking a nap.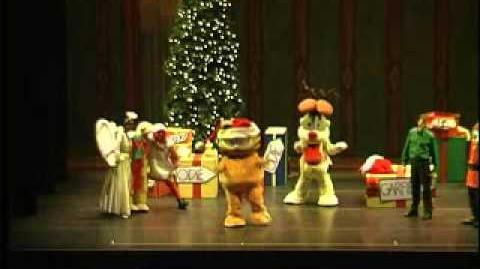 Soon, a power outage strikes and Jon goes to the basement (for most of the stage play), along with taking Garfield's teddy bear Pooky. Soon, Garfield is sleeping while Jon's ragged doll (who he was originally going to put on eBay), a nutcracker, a teddy bear, and an angel too scared to fly come to life to show Garfield about his selfish ways of being too arrogant for himself and not caring for others.
They tell him how they do not like Garfield's behavior, and often start songs that also encourage the audience to dance with them. In Act Two, after a intermission had occured, Odie joins in, and the play still continues. Towards the end of the play, Jon returns from the basement. Garfield puts on a Santa hat with a big bag of presents, and learns his lessons, and gives presents to each people, along with morals. He teaches the nutcracker that he shouldn't complain about being used with his mouth to open chestnuts, has the ragged doll be more played with, and Jon decides to play with her more, and the most important of all, encourages the angel (the Christmas tree star on top) not to be afraid to fly.
The stage play ends with the song Have Yourself A Merry Little Christmas.