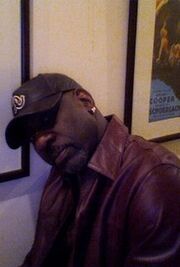 Al Chalk is an American voice actor, best known for announcing movie trailers, as well as numerous In Living Color skits.
Early in his career, Chalk made a live action appearance in American Hot Wax. He was among the famous announcers featured in the 1997 short film 5 Men and a Limo, along with Don LaFontaine, John Leader, Nick Tate, and Mark Elliot.
Chalk recorded an album titled United States of Us, which was released in 2015.
Voiceover
Commercials
Ad blocker interference detected!
Wikia is a free-to-use site that makes money from advertising. We have a modified experience for viewers using ad blockers

Wikia is not accessible if you've made further modifications. Remove the custom ad blocker rule(s) and the page will load as expected.