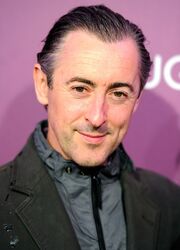 Alan Cumming is a Scottish-American actor.
As a stage actor, he has appeared in plays such as Hamlet, Accidental Death of an Anarchist, The Threepenny Opera, Cabaret, Design for Living, and Macbeth. He made a cameo appearance in the New York version of the David Bowie musical Lazarus.
In film and television, his best known credentials are Mr. Elton from Emma, Boris Grishenko from GoldenEye, Fegan Floop from the first three Spy Kids films, Nightcrawler from X2: X-Men United, the announcer for Masterpiece Mystery!, and Eli Gold from The Good Wife.
His voiceover credentials include the title character of the 1994 film Black Beauty, the Devil from God, the Devil, and Bob, Bruno the Bear from Shoebox Zoo, Newton from Cat Tale, Gutsy Smurf from the live action version of The Smurfs, and Bog King from Strange Magic.
Ad blocker interference detected!
Wikia is a free-to-use site that makes money from advertising. We have a modified experience for viewers using ad blockers

Wikia is not accessible if you've made further modifications. Remove the custom ad blocker rule(s) and the page will load as expected.