Am I Cool or What? is a music album from 1991 featuring various artists on songs about or inspired by Garfield. It was released on LP, cassette, and CD.
Track Listing
Trivia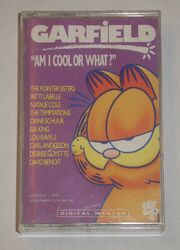 "Long About Midnight", "Here Comes Garfield," and "Up on a Fence" were previously recorded for the soundtrack of Here Comes Garfield (with the former two songs appearing in the special itself).
"Shake Your Paw" and "Monday Morning Blues" were also featured in Garfield Gets a Life. "Spare Time" has the same melody as the theme song of the special.
The album appeared on the Billboard charts for Top Contemporary Jazz Albums, peaking at #23.
External Links
Ad blocker interference detected!
Wikia is a free-to-use site that makes money from advertising. We have a modified experience for viewers using ad blockers

Wikia is not accessible if you've made further modifications. Remove the custom ad blocker rule(s) and the page will load as expected.