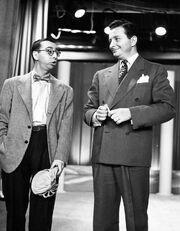 Arnold Stang (September 28, 1918 - December 20, 2009) was an American comic actor and voice actor.
He may be best known in voiceover as the title character of Top Cat, as well as Famous Studios characters (including Herman from Herman and Katnip, Tubby Tompkins from Little Lulu, and Shorty from Popeye), Nurtle the Twertle from Pinocchio in Outer Space, Catfish from Misterjaw, and minor characters from Courage the Cowardly Dog. He was also heard in commercials for Honey Nut Cheerios (as the Bee), Corny-Snaps (as Shelly the Turtle), Sony Note Cassette Recorder (as Peterson), Alcoa, Nestle Chunky, and Vicks Vapo-Rub.
In radio, he was heard in shows with Henry Morgan, Milton Berle, and Eddie Cantor. He appeared in many early television shows, including Doc Corkle, Texaco Star Theater, and The Colgate Comedy Hour. His movie credentials include So This Is New York, The Man With The Golden Arm, It's a Mad, Mad, Mad, Mad World (partnered with Marvin Kaplan), Hercules in New York, and Skidoo.
Trivia
External Links
Ad blocker interference detected!
Wikia is a free-to-use site that makes money from advertising. We have a modified experience for viewers using ad blockers

Wikia is not accessible if you've made further modifications. Remove the custom ad blocker rule(s) and the page will load as expected.