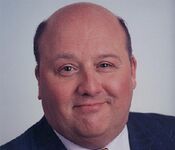 William Alfred "Bill" Kirchenbauer (born February 19, 1953, in Salzburg, Austria) is an American actor, writer, and stand-up comic.
Kirchenbauer is known for roles such as Coach Graham Lubbock in Growing Pains and its spin-off Just the Ten of Us, Tony Rolletti in both Fernwood 2 Night and America 2-Night, T.N.T. from Mork and Mindy, and Captain Glucose in The Diabetes Duo: Captain Glucose and Meter Boy.
Kirchenbauer has appeared in movies such as Gorp, Stoogemania, The Story of Us, The Alternate, and Unbeatable Harold. He was also a panelist in Super Password and the early 1990s version of Match Game.
Kirchenbauer is also the founder of the infamous Uncle Crazies Comedy Club. The club was known for having reviews posted over two months before the club debuted, as well as only hiring acts expected to be shown in Branson, Missouri.
External Links