Binky Goes Bad! is an episode from the second season of Garfield and Friends.
Synopsis
Binky has been brought to court on the charges of grand theft and robbery. Garfield decides to prove his innocence.
Plot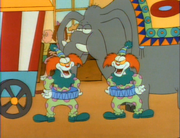 Major Characters
Minor Characters
Bailiff (voiced by Greg Berg)
Judge (voiced by Greg Berg)
Police Officers
Police Chief (voiced by Greg Berg)
Prosecutor (voiced by Gregg Berger)
Man (voiced by Thom Huge)
Trivia
Ad blocker interference detected!
Wikia is a free-to-use site that makes money from advertising. We have a modified experience for viewers using ad blockers

Wikia is not accessible if you've made further modifications. Remove the custom ad blocker rule(s) and the page will load as expected.