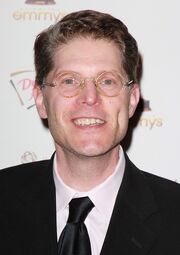 Bob Bergen is an American voice actor, best known as the main modern voice of Porky Pig from Looney Tunes (occasionally also portraying Tweety Bird, Speedy Gonzales, Marvin the Martian, and others). He was also the voice of Luke Skywalker in Star Wars video games (from Shadows of the Empire to Battlefront II) as well as Robot Chicken, and the title character of Lupin III (in the Streamline dub).
Other notable credentials include Fraggle Rock: The Animated Series, the short lived Little Muppet Monsters, Akira, Nadia: The Secret of Blue Water, The Santa Clause movies, Spider-Man (1994 series), The Emperor's New Groove franchise, Spirited Away, and Skylanders. He was also the host of Jep!, a kids version of Jeopardy!, and an announcer for Disney Channel, Fox Kids, and FX.
Ad blocker interference detected!
Wikia is a free-to-use site that makes money from advertising. We have a modified experience for viewers using ad blockers

Wikia is not accessible if you've made further modifications. Remove the custom ad blocker rule(s) and the page will load as expected.