This article is about the episode from Garfield and Friends. For the episode from The Garfield Show, see Bride and Broom (The Garfield Show episode).
Bride and Broom is an episode from the fifth season of Garfield and Friends.
Synopsis
When a warlock chickens out of marrying a witch, the witch decides to find someone else for a groom. That someone is, of course, Jon Arbuckle.
Plot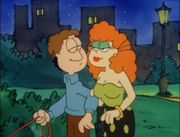 Characters
Main Characters
Minor Characters