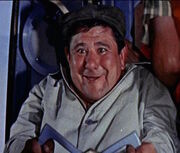 Buddy Hackett (August 31, 1924 - June 30, 2003) was an American actor and comedian.
Hackett is best known for his roles in The Music Man, It's a Mad, Mad, Mad, Mad World, The Love Bug, and The Little Mermaid series. He appeared frequently on The Tonight Show (during the Jack Paar and Johnny Carson versions), What's My Line?, and The Perry Como Show. He portrayed the title character of the 1956-57 series Stanley.
Voice Work
Ad blocker interference detected!
Wikia is a free-to-use site that makes money from advertising. We have a modified experience for viewers using ad blockers

Wikia is not accessible if you've made further modifications. Remove the custom ad blocker rule(s) and the page will load as expected.