Camping is a running gag in the Garfield comic. During times when Garfield is bored, Jon goes camping taking Garfield and Odie with him much to Garfield's dismay. When they camp, usually bad luck follows such as rain. The first time they went camping was on June 11, 1979 in which Garfield said that was the farthest he had been from the sandbox. In September 1988, Garfield went camping on his own.(By sleeping next to a picture of the Grand Canyon.) Camping was an occasional series in the 1980's and early 1990's but ended around 1997. The last time they went camping was on October 31, 2007. Once in 1989, they spent two weeks camping but were plagued by rain, snow, bears and pumas. When given a choice between camping and going to the family farm, Garfield chooses Camping.
Trivia
Once when Jon asked Garfield if he would prefer going to the farm or going camping, Garfield asked if having something amputated is a choice.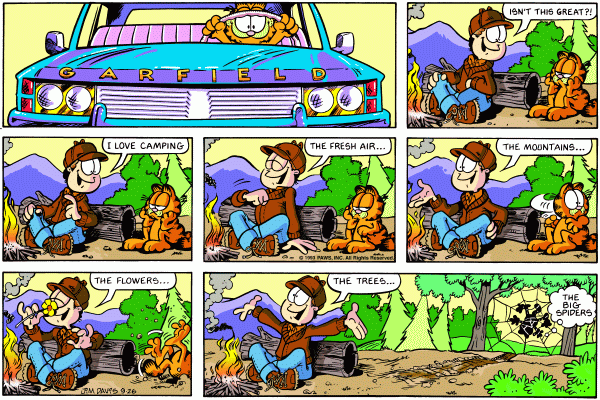 Ad blocker interference detected!
Wikia is a free-to-use site that makes money from advertising. We have a modified experience for viewers using ad blockers

Wikia is not accessible if you've made further modifications. Remove the custom ad blocker rule(s) and the page will load as expected.