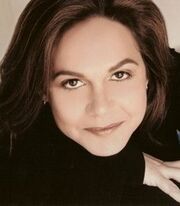 Candi Mllo (born January 9, 1961) is an American actress and voice actress.
Milo's best known roles include Sweetie Pie from Tiny Toon Adventures, Red from 2 Stupid Dogs, Mom from Cow and Chicken, The Flea from Mucha Lucha!, Snap and Reggie Bullnerd from Chalkzone, Nora Wakeman from My Life as a Teenage Robot, the title character of the 2003 version of Astro Boy, Maya Santos from Maya and Miguel, Madame Foster, Coco, and Cheese from Foster's Home for Imaginary Friends, and Irma Lair from W.I.T.C.H.. She also took over the title role of Dexter's Laboratory following the retirement of Christine Cavanaugh.
Her other known credentials include Camp Candy, Cool World, SWAT Kats: The Radical Squadron, Pepper Ann, The Adventures of Jimmy Neutron: Boy Genius, Codename: Kids Next Door, The Life and Times of Juniper Lee, The Buzz on Maggie, The Replacements, El Tigre, Planet Sheen, T.U.F.F. Puppy, and Mighty Magiswords.
Voiceover
Ad blocker interference detected!
Wikia is a free-to-use site that makes money from advertising. We have a modified experience for viewers using ad blockers

Wikia is not accessible if you've made further modifications. Remove the custom ad blocker rule(s) and the page will load as expected.