Not to be confused with Ballantine Books.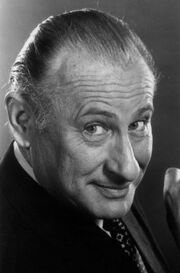 Carl Ballantine (September 27, 1917 - November 3, 2009), born Meyer Kessler, was an American magician, comedian, and voice actor.
As a magician, he went by the stage names "The Great Ballantine", "The Amazing Ballantine" or "Ballantine: The World's Greatest Magician". He became known for comedy magic after messing up with conventional magic. He appeared in shows such as All Star Summer Revue, The Garry Moore Show, The Steve Allen Show, The Ed Sullivan Show, and The Tonight Show Starring Johnny Carson.
As an actor, he is best known for his role as Lester Gruber from McHale's Navy. He also played Al Henderson in Car 54, Where Are You? and Max Kellerman in One in a Million. He appeared in movies such as Penelope, Speedway, The Shakiest Gun in the West, The World's Greatest Lover, Mr. Saturday Night, and Aimee Semple McPherson. He also played Lycus in the 1972 version of A Funny Thing Happened on the Way to the Forum.
Ad blocker interference detected!
Wikia is a free-to-use site that makes money from advertising. We have a modified experience for viewers using ad blockers

Wikia is not accessible if you've made further modifications. Remove the custom ad blocker rule(s) and the page will load as expected.