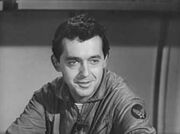 Charles Aidman was an American actor.
He was the first narrator for The New Twilight Zone (he had previously appeared in two episodes of the original series). He also appeared in an episode of All in the Family as Louis Willis, a character who was remade into Tom Willis (played by Franklin Cover) in The Jeffersons.
His other televsion credentials include The Wild Wild West (as Jeremy Pike), Wagon Train, Whirlybirds, The Tall Man, The Americans, Riverboat, M*A*S*H, Gunsmoke, Have Gun-Will Travel, Little House on the Prairie, Quincy M.E., and Walt Disney's Wonderful World of Color. He appeared in films such as Pork Chop Hill, Hour of the Gun, Twilight's Last Gleaming, and Zoot Suit.
He performed a theater adaptation of Spoon River Anthology in 1963.