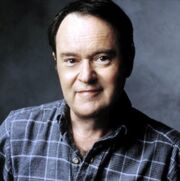 David L. Lander (born June 22, 1947) is an American actor, among other occupations, including Goodwill Ambassador for the National Multiple Sclerosis Society.
He is best known for the role of Andrew "Squiggy" Squiggman from Laverne and Shirley. He has also appeared in The Bob Newhart Show, Rhoda, Barney Miller, The Love Boat, Matlock, Simon & Simon, Married...With Children, Star Trek: The Next Generation, Twin Peaks, On the Air, Family Matters, The Nanny, Pacific Blue, The Bold and the Beautiful, Diagnosis: Murder, Sabrina, The Teenage Witch, and Break a Hip.
His movie credentials include 1941, Funland, A League of Their Own, Scary Movie, Say It Isn't So, and Christmas with the Kranks.
His earliest voiceover roles were Elvis Presley in the radio music documentary series Pop Chronicles and Jerry Lewis in Filmation's Will the Real Jerry Lewis Please Sit Down. He has also voiced characters in Galaxy High, Who Framed Roger Rabbit?, Tom and Jerry Kids, The Little Mermaid television series, Jungle Cubs, 101 Dalmatians: The Series, Lego Island, Zork: Grand Inquisitor, Recess, Titan A.E., Oswald, The Grim Adventures of Billy and Mandy, and Green Lantern: First Flight.
Lander, along with fellow Laverne and Shirley cast member Michael McKean, recorded a 1979 album as Lenny and the Squigtones.
Voice Work
TV Specials
Ad blocker interference detected!
Wikia is a free-to-use site that makes money from advertising. We have a modified experience for viewers using ad blockers

Wikia is not accessible if you've made further modifications. Remove the custom ad blocker rule(s) and the page will load as expected.