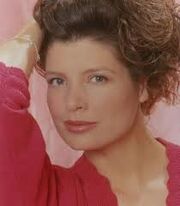 Desirée Goyette (married name Desirée Goyette-Bogas) (born September 10, 1956), is a singer, composer and voice actor.
In voiceover, Goyette has portrayed Betty Boop in The Romance of Betty Boop (as well as the Animaniacs parody Googi Goop), Giselle "Danse" Dvorak in Jem, Brenda in a 1987 Cathy special, and Taki in Soul Caliber II. She has co-written music for several Peanuts specials along with Ed Bogas.
Goyette has worked on many Garfield projects, including duets with Lou Rawls for songs from the Garfield specials. Music from the 1982-1989 specials and the first three seasons of Garfield and Friends were written by Goyette and Ed Bogas. On Garfield's Feline Fantasies and Garfield Gets a Life, Goyette collaborated with David Benoit instead.
Goyette is currently active in writing and recording inspirational music under Lightchild Publishing.
Songs
Home Again
The Claws (with Lou Rawls)
Home Again (reprise)
So Long Old Friend (briefly heard on the radio)
The Music of Nature
Run-Run I'm Afraid (with Thom Huge)
Inversion Layer Airlines Jingle
Hello, Hawaii (Can I Come Over?) (with Lou Rawls)
When I Saw You (with Thom Huge)
The Wizard of Love (with Thom Huge and Lorenzo Music)
Desiree's Meow Solo
Christmas in Your Heart (with Thom Huge, Julie Payne, David Lander and Pat Harrington, Jr.)
You Can Never Find An Elf When You Need One (with Lou Rawls)
Voices
TV Specials
Desiree the Classical Cat
Books on Tape
Narrator
Jessie
Jessie's Mother
Trivia
External Links
Ad blocker interference detected!
Wikia is a free-to-use site that makes money from advertising. We have a modified experience for viewers using ad blockers

Wikia is not accessible if you've made further modifications. Remove the custom ad blocker rule(s) and the page will load as expected.