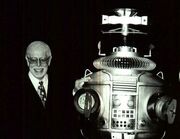 Dick Tufeld (December 11, 1926 - January 22, 2012) was an American actor, announcer, narrator, and voice actor.
He is best known as the voice of the Robot from Lost in Space, and did voiceover for many commercials and promos. His narrator/announcer credentials include The Hollywood Palace, The Julie Andrews Hour, Disney's Zorro, Voyage to the Bottom of the Sea, The Time Tunnel, and Spider-Man and His Amazing Friends.
Trivia
Tufeld has been jokingly known as "Dick Tufeld Speaking" (per his line "This is Dick Tufeld speaking").

During the end credits of his appearance in Garfield and Friends, he is listed as Dick Tufeld Speaking.
Ad blocker interference detected!
Wikia is a free-to-use site that makes money from advertising. We have a modified experience for viewers using ad blockers

Wikia is not accessible if you've made further modifications. Remove the custom ad blocker rule(s) and the page will load as expected.