Dog Days is an episode from the second season of The Garfield Show.
Synopsis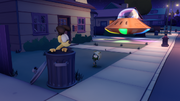 When Odie gets a special cookie from an alien, his slobber ends up having a strange effect on the city folk.
Plot
Characters
Main Characters
Major Character
Minor Characters
Odiefan99 (mentioned)
Jon's Insurance Man
Governor
Harry (Cameo)
Trivia
Garfield's name is misspelled "Garfeild" instead of "Garfield" by Odiefan99.
In this episode, the alien's name is revealed to be Nimbus. He also wears a helmet, and has a different voice.
Ad blocker interference detected!
Wikia is a free-to-use site that makes money from advertising. We have a modified experience for viewers using ad blockers

Wikia is not accessible if you've made further modifications. Remove the custom ad blocker rule(s) and the page will load as expected.