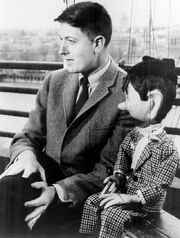 Frank Buxton (February 13, 1930 - January 2, 2018) was an American actor, television writer, author, and television director.
Buxton first worked on the 1960s documentary series Discovery as host and producer (Bill Owen, who succeeded him as host, co-wrote The Big Broadcast: 1920-1950 with Buxton). He was also the first host of the short-lived game show Get the Message in 1964 (he was replaced by Robert Q. Lewis in September of that year).
Buxton provided the voices of Batfink and Hugo A-Go-Go for the Hal Seeger cartoon Batfink. He also did voiceover work for What's Up, Tiger Lily?, No Man's Valley, The Romance of Betty Boop, Chip 'n' Dale Rescue Rangers, and All-New Dennis the Menace. He had film roles in Overboard and Beaches, as well as guest appearances in The Tonight Show Starring Johnny Carson, The Dick Cavett Show, The Odd Couple, and The Mike Douglas Show.
Buxton wrote, produced, and directed for shows such as The Bob Newhart Show, The Odd Couple, Happy Days, One Day at a Time, Mork and Mindy, Love, American Style, and his own series Hot Dog (which starred, among others, Jonathan Winters and Tom Smothers). Hot Dog would win a Peabody Award in 1970.
In his later years, Buxton appeared in the online series Cookus Interruptus, and was involved in community theatre improvisational comedy (with The Edge) in his hometown of Bainbridge Island, Washington.
Voiceover
TBA