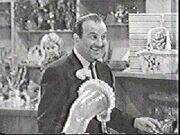 Frank Nelson (May 6, 1911 - September 12, 1986) was an American television and radio actor. He notably appeared in Flywheel, Shyster, and Flywheel, The Jack Benny Program, Fibber McGee and Molly, Tarzan, The Baby Snooks Show, Yours Truly, Johnny Dollar, I Love Lucy, and Sanford and Son.
As a voice actor, he provided the voices of several characters from The Flintstones, the narrator of the early 1960s Mister Magoo series, one of the doctors from the television film adaptation of Puff the Magic Dragon, Spiffy from The Oddball Couple, Uncle Dudley from Dinky Dog, Satan from The Looney Looney Looney Bugs Bunny Movie, Wizzar from Monchichis, and Governor Wetworth from Snorks, as well as Mr. Cow from the full version of the "How Many Licks Does It Take" commercial for Tootsie Pops.
He is especially known for his "EEE-Yeeeeeeeeesssss?" catchphrase from The Jack Benny Program, which has been parodied often, most notably with the "Yes Guy" from The Simpsons and Jon Stewart in The Daily Show.
TV Specials
Trivia