Full of Beans is an episode from the second season of The Garfield Show.
Synopsis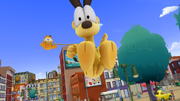 Jon receives a jumping bean from his friend, but Odie swallows it and jumps arounds like crazy.
Plot
Characters
Main Characters
Major Character
Minor Characters
Mr. Schnitzel (voiced by Frank Welker)
Blue Chihuahua
Body Builder
Teenage Girl
Freddy Applegate (Cameo)
Ad blocker interference detected!
Wikia is a free-to-use site that makes money from advertising. We have a modified experience for viewers using ad blockers

Wikia is not accessible if you've made further modifications. Remove the custom ad blocker rule(s) and the page will load as expected.