Furry Tales is an episode from the third season of The Garfield Show.
Synopsis
Garfield tells Odie his version of a fairy tale.
Plot
Jon and Liz plan to go on a picnic in a forest, which has no accommodations for pets. Odie is watching TV, while Garfield is in bed until he notices that his favorite show is on. Garfield then rushes down to turn the TV from the fairy tale Odie was watching to Eddie Gourmand's show, much to Odie's dismay. Eventually, Garfield reluctantly changes the channel back, but still doesn't get what Odie sees in fairy tales. Jon and Liz leave for their picnic, with Jon noticing the basket is lighter than before, but without suspecting Garfield is responsible.
Garfield then gives Odie his version of a fairy tale. It involves "an extremely handsome cat" (i.e. himself), who resides in a castle, where he enjoys plenty of food. However, he has three problems. First, a dog (Odie) wants him to constantly throw sticks to fetch. Secondly, the prince's twin nieces (Drusilla and Minerva) want to play dress up with him. Finally, his master, Prince Jon, must have a bride by his 21st birthday in order to become king. Otherwise, the viceroy (Dr. Whipple) will do so instead, with plenty of taxes being planned. Garfield is unconcerned about the taxes until he hears that they'll include ingredients to lasagna. With that, he becomes determined to help Prince Jon find a wife.
Garfield then takes a break from the story to get a burrito.
To be continued...
Characters
Major Characters
Minor Characters
Trivia
This is the first hour-long special of the show.
Songs
Clip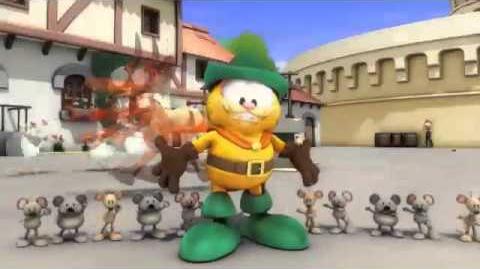 Ad blocker interference detected!
Wikia is a free-to-use site that makes money from advertising. We have a modified experience for viewers using ad blockers

Wikia is not accessible if you've made further modifications. Remove the custom ad blocker rule(s) and the page will load as expected.