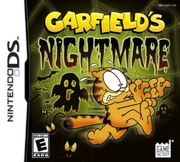 Garfield's Nightmare is a 2007 video game for the Nintendo DS.
Plot
Garfield feels hungry (as always) and makes a big sandwich. Convincing himself that it was too much even for him, he takes a nap. Having smashed his alarm clock, he must fight bosses, then get all the pieces of the clock to rebuild it to be wake up.
There are 20 levels and five stages in each.
Ad blocker interference detected!
Wikia is a free-to-use site that makes money from advertising. We have a modified experience for viewers using ad blockers

Wikia is not accessible if you've made further modifications. Remove the custom ad blocker rule(s) and the page will load as expected.