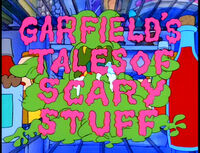 Garfield's Tales of Scary Stuff is a recurring feature in the Garfield television series. It details various incidents that Garfield finds scary.
Episodes
Trivia
In Change Of Mind, Nermal does his own version of this (called Nermal's Tales of Scary Stuff) and Garfield intends to sue him and Jon (who also spoofed it at the end of the episode) for copying his idea.
Gallery
Ad blocker interference detected!
Wikia is a free-to-use site that makes money from advertising. We have a modified experience for viewers using ad blockers

Wikia is not accessible if you've made further modifications. Remove the custom ad blocker rule(s) and the page will load as expected.