Garfield's Judgment Day
Talk

0
518pages on
this wiki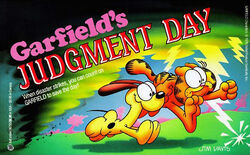 Garfield's Judgment Day is a Garfield book based on an unproduced animated feature, published in 1990. Unlike the television special adaptions, this book is in a picture book format rather than in the comic book format.
Garfield's creator Jim Davis wrote this story as the script for a feature-length theatrical Garfield cartoon when the prime time animated specials were still in production and very popular. The voices and songs were recorded for the film, but Walt Disney Pictures (the studio Davis wanted distributing the potential film) did not want to fund the animation, apparently because of the dark, serious tone of the story. After unsuccessfully pitching it to Disney and, eventually, as a television special for several years, Davis tried writing two other feature-length scripts to Disney, but they still showed no interest.
The book is notable as being the only Garfield book in which the animals talk, aside from Garfield: His 9 Lives which was intended as "entertainment" according to Jim Davis.
The story (which can be read in the book) establishes Arlene as being a stray cat.