Garfield Goes Hollywood
Comments

0
627pages on
this wiki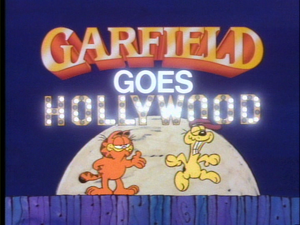 Garfield Goes Hollywood is the seventh animated special and it premiered on May 8, 1987 on CBS Television. As a Garfield And Freinds TV Special.
Plot
Jon and the family watch a show called Pet Search and their looking for pets with talent. Garfield and Odie dance to Jon so, he puts them on Pet Search.
Other acts are: A goldfish that jumps through a hoop, a bear on roller skates, a fliping puppy and tap dancing pidgeons. Garfield and Odie win the contest and, head to Hollywood.
Garfield and Odie's act wins them 2nd place so, they head home. With a boat