Season 1, Episode 1 of Garfield and Friends consists of the following:
Garfield Quickie
Peace and Quiet
After staying up all night watching TV, Garfield tries to get some sleep, but gets pestered by Binky the Clown.
U.S. Acres Quickie
Wanted: Wade
Wade believes that the police will arrest him after he rips the a tag off the bottom of a couch. Meanwhile, Roy plays a CD on his stereo, which goes out of control.
Garfield Quickie
Garfield Goes Hawaiian
Garfield catches the Hawaiian Cat Flu; every time someone mentions Hawaii or anything from Hawaii, he dances the hula.
Title Cards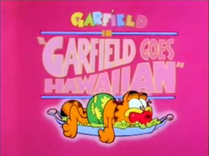 Ad blocker interference detected!
Wikia is a free-to-use site that makes money from advertising. We have a modified experience for viewers using ad blockers

Wikia is not accessible if you've made further modifications. Remove the custom ad blocker rule(s) and the page will load as expected.