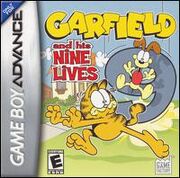 Garfield and His Nine Lives is a 2006 video game released for the Game Boy Advance.
After eating too much before going to bed, Garfield begins to experience nightmares and dreams. Now Garfield must play through his nine lives, or levels, until morning comes.
Jon is mentioned at one point in the game, and his head can occasionally be seen in secret rooms (as a hint that it was a room there).
Lasagna act as health items; they are unavailable in hard mode.