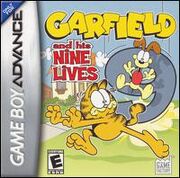 Garfield and His Nine Lives is a 2006 video game released for the Game Boy Advance.
Story
After eating too much before going to bed, Garfield begins to experience nightmares and dreams. Now Garfield has to play through his nine lives, or levels, until morning comes.
Trivia
Ad blocker interference detected!
Wikia is a free-to-use site that makes money from advertising. We have a modified experience for viewers using ad blockers

Wikia is not accessible if you've made further modifications. Remove the custom ad blocker rule(s) and the page will load as expected.