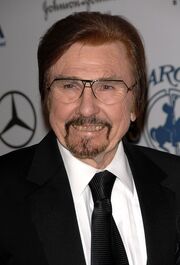 Gary Owens (May 10, 1934 – February 12, 2015) was an American voice actor and disc jockey.
He is best known as the announcer of Rowan & Martin's Laugh-In, as well as the voice of the title characters of Space Ghost and Roger Ramjet. He also voiced The Blue Falcon from Dynomutt, Dog Wonder, Powdered Toast Man from The Ren & Stimpy Show, Commander Ulysses Feral from SWAT Kats: The Radical Squadron, and, in one version of the pilot, the title character of Inspector Gadget. During the first four years of the network, he was the announcer for Antenna TV.
In all opening themes of Garfield and Friends (except the last one), he can be heard announcing "Ladies and Gentlemen, Garfield and Friends!"
Ad blocker interference detected!
Wikia is a free-to-use site that makes money from advertising. We have a modified experience for viewers using ad blockers

Wikia is not accessible if you've made further modifications. Remove the custom ad blocker rule(s) and the page will load as expected.