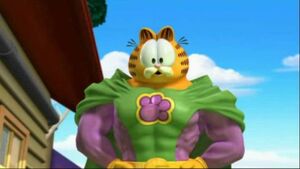 Garzooka (voiced by Frank Welker) is the leader of the superhero team Pet Force. His powers are gamma-radiated hairballs, superhuman strength, and razor-sharp claws in his right hand that can rend solid steel. While the original Garzooka was heroic and a born leader, the Garzooka created from Garfield is lazy and gluttonous, though he still focuses on the task at hand.
Appearances
DTV Movies
Books
The Outrageous Origin
Pie-Rat's Revenge
K-Niner: Dog of Doom
Menace of the Mutanator
Attack of the Lethal Lizards
Comics
Pet Force No More!
The Creature Stalks!
Pet Force Vs. The Fearsome Four!
The Contractor of Doom!
Cat-Astrophe In The Cosmos!
The Fearsome Four Strike Back!
Ad blocker interference detected!
Wikia is a free-to-use site that makes money from advertising. We have a modified experience for viewers using ad blockers

Wikia is not accessible if you've made further modifications. Remove the custom ad blocker rule(s) and the page will load as expected.