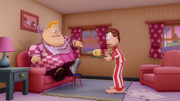 Guest from Beyond is an episode from the second season of The Garfield Show.
Synopsis
Eddie Gourmand loses his show when a station manager finds his show to promote unhealthy eating, so he stays with Jon Arbuckle, and soon is being waited on 24\7
Plot
Characters
Main Characters
Major Character
Minor Characters
Trivia
Garfield mentions Eddie Gourmand appeared in 6 episodes from the first season.
Ad blocker interference detected!
Wikia is a free-to-use site that makes money from advertising. We have a modified experience for viewers using ad blockers

Wikia is not accessible if you've made further modifications. Remove the custom ad blocker rule(s) and the page will load as expected.