Here Comes Garfield is a soundtrack album based on the TV special of the same name. It was released on LP and cassette. Lou Rawls and Desiree Goyette provide vocals for the songs, while several of the actors from the TV special are heard in dialogue clips.
Track Listing
All songs written by Desiree Goyette and Ed Bogas.
Trivia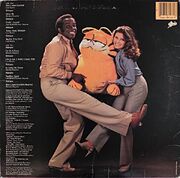 While several songs and dialouge are from the special, others are unique to the soundtrack.
Three songs would be remade on Am I Cool or What?. Lou Rawls and Desiree Goyette would once again sing on "Here Comes Garfield" and "Up on a Fence" respectively, while Natalie Cole sang on "Long About Midnight."
Lorenzo Music, Sandy Kenyon, Henry Corden, Hal Smith, and Hank Garrett reprise their roles as Garfield, Jon, Hubert, Skinny, and Fast Eddy respectively. Other characters from the special only have silent roles, if any.
The reprise of the title song has the same instrumental track as the version featured in the special, but with Desiree Goyette on vocals instead of Lou Rawls.
Ad blocker interference detected!
Wikia is a free-to-use site that makes money from advertising. We have a modified experience for viewers using ad blockers

Wikia is not accessible if you've made further modifications. Remove the custom ad blocker rule(s) and the page will load as expected.