High Scale is the thirteenth episode from the first season of The Garfield Show.
Synopsis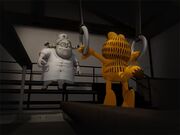 After Garfield's checkup with Liz, he is ordered to lose two pounds, according to a talking scale.
Plot
Jon looks at his portrait of Liz and says he hasn't seen her for days, then says to Garfield to go to the vet to test him. At the vet, there is nothing wrong about Garfield and Liz decides to show Garfield the scale, to see how much Garfield weighs. Once he was placed on the scale, Garfield was jolted after it said rude things about him. Liz said he has to lose two pounds before the end of the week or has no choice to take him to the Cat Spa. But unfortunately, Garfield at the Cat Spa has a long strict diet. He then asks if he can still eat lasagna, pizza, pork fried rice and bacon wrapped in bacon, and Liz responds by showing him a video about the spa.
Jon and Garfield disagree and Liz made him a deal, while they both shudder. Garfield them eats Liz's lunch because of the video. Later at home, Garfield later anticipates the lasagna, ribs, Chinese food and chocolate cream pie, also roast beef, with a side of roast beef, with a third helping of his second helping...until he gets a lettuce leaf from Jon. He licks the leaf, then eats it by disapproval, he also looks for food in the fridge, while Jon calls with Liz.
Jon witnesses him with the leaf covered with whipped cream and chocolate sauce, Jon hangs up on Liz and gets angry with Garfield. He goes to the scale, and it says he gains another pound. Garfield has to lose three pounds, according to Jon, and he has to go to sleep, getting on it tomorrow. Jon wonders when will he lose weight the next day to take it seriously. Meanwhile, at nighttime, Garfield slumbered himself to sleep that he says the Cat Spa can't be bad.
Garfield is at the Cat Spa, in a black-and-white horror style, except his colour is still visible. He is at the spa, where he was trapped like in Jail and tries to escape, and finds Hector from the spa video. He says Nurse "Psycho" doesn't like the cats scream in terror, and warns him not to tell him about what cats do. Hector reveals that it was him, while Garfield gets scared and pleas for Jon. He tries to get a grip, but the Nurse Psycho appears, accusing him he screamed, he meant he yodelling.
She then makes him lose weight like eating one pea, drinking a drip of water, and doing exercises like gymnastics and Push-ups. Every time he does that, he goes to the scale one at a time, until the scale comes to life, evolving into a spider scale with sharp teeth, eight legs that makes a sound and tells him terrible quotes with a deep voice. Garfield hates the insults, runs away while the scale chases him, Garfield traps him, until the scale stands right in front of him, making Garfield scream. It says to him that ALL his "friends" are here, even though Garfield doesn't see any of his "friends" and the scale shows him his friends (pizza, ice cream, pie, cake, cheese, roast beef, and even lasagna), which are his foods.
In a split-second, a talking cake, a talking ice cream, a talking pizza, a talking pie, a talking Swiss cheese, a talking roast beef and of course, a talking lasagna (similar to the lasagna in Pasta Wars) pops up out of nowhere, and the scale says they're ALL his friends. The "friends" said that they're ALL his friends to Garfield in a toon voice, and he backed away from the alive befriending foods and the scale who were starting to corner Garfield. The scale also makes an evil laugh while he does this thing. Garfield tells all of them that he promised to lose weight as he loses his mind, before he could finish, he falls down into the dark abyss below him, screaming in horror and fear.
Garfield wakes up all of a sudden from his nightmare, found himself slipped out of his bed and worries in dizziness, and tells himself that he has to lose three pounds immediately. Jon was calling Liz, asking her he doesn't know what to get Garfield to exercise, and sees Garfield exercising and Odie as his coach. He ran around, and he even did push-ups. Jon sure he has lost two pounds, and finally, the scale says he still needs to lose two pounds, as the scale laughs evilly, and Garfield loses his mind, realizing his nightmare is coming true.
Jon didn't understand why it happened, and found the problem before revealing that he mistakenly put the switch from the "Portful Pussycat" section to the "Pintsize Parakeet" section, eventually losing two pounds. Garfield was angry and disgraced about this, so, he scares Jon away. He then decides to deliver the scale to the zoo, tests an elephant, and the scale overloads, saying that he's very fat and complains. Garfield then tells a lesson to the viewer about exercise.
Characters
Main Characters
Major Characters
Trivia
Transcript
The Garfield Show
Episodes

Season 1: "Pasta Wars" "Mother Garfield" "Orange and Black" "Freaky Monday" "Bone Diggers" "The Robot" "Catnap" "Agent X" "A Game of Cat and Mouse" "Perfect Pizza" "King Nermal" "Desperately Seeking Pooky" "High Scale" "Jon's Night Out" "Not So Sweet Sound of Music" "Turkey Trouble" "Pup in the Pound" "Odie in Love" "Pet Matchers" "Lucky Charm" "Curse of the Were-Dog" "Meet the Parents" "Down on the Farm" "The Pet Show" "Curse of the Cat People" "Glenda and Odessa" "Underwater World" "Family Picture" "Time Twist" "Time Master" "Fish to Fry" "Little Yellow Riding Hood" "Fame Fatale" "Virtualodeon" "It's a Cat's World" "Mailman Blues" "Extreme Housebreaking" "Heir Apparent" "Caroling Capers" "From the Oven" "Neighbor Nathan" "History of Dog" "Up a Tree" "It's a Cheese World" "Nice to Nermal" "Out on a Limb" "Super Me" "Mastermind" "The Amazing Flying Dog" "The Last Word" "Iceman" "T3000"

Season 2: "Home for the Holidays" (Part 1, Part 2), "Ticket to Riches" "Gravity of the Situation" "The Art of Being Uncute" "Night of the Bunny Slippers" "Blasteroid" "The Big Sneeze" "The Spy Who Fed Me" "Meet Max Mouse" "The Haunted House" "Which Witch" "Cyber Mailman" "Odie for Sale" "Farm Fresh Feline" "Dog Days" "Planet of Poultry" "With Four You Get Pizza" "The Bluebird of Happiness" "Inside Eddie Gourmand" "Fido Food Feline" "Everything's Relative" "Honey, I Shrunk the Pets" "Garfield Astray" "History of Cats" "Black Cat Blues" "Cuter Than Cute" "Great Pizza Race" "Master Chef" "Guest from Beyond" "Depths of a Salesman" "Night of the Apparatuses" "Land of Hold" "Penny Henny" "A Gripping Tale" "Wicked Wishes" "Jumbo Shrimpy" "Pirate Gold" "Me, Garfield and I" "Detective Odie" "Stealing Home" "Full of Beans" "Love and Lasagna" "True Colors" "Mind Over Mouse" "The Big Sleep" "Pampered Pussycat" "Parrot Blues" "Rain or Shine" "The Mole Express" "Unfair Weather" (Part 1, Part 2)

Season 3: "Furry Tales" (Part 1, Part 2, Part 3, Part 4) "Kind to Kittens" "Little Angel" "Prehistoric Pup" "Land of Later" "Laugh in a Can" "The Non-Garfield Show" "The Caped Avenger Rides Again!" "The Superhero Apprentice" "Teddy Dearest" "Bath Day" "What a Difference a Pet Makes" "Garfield Gets Canned" "Partners in Mime" "Boris the Snowman" "Long Lost Lyman" (Part 1, Part 2, Part 3, Part 4), "The Golden Lasagna Awards" "Pawparazzi" "It's About Time" "Online Arbuckle" "Muscle Mouse" "The Write Stuff" "Cupid Cat" "The Control Freak" "Every Witch Way" "Revenge of the Cat People" "The Garfield-Only Show" "Filthy Fugitives" "Smartest Dog in the World" "Farmer Garfield" "More Than Meets the Eye" "Fast Friends" "Where's Odie" "Doggone Jon" "The Mysterious Machine" "Fitness Crazed" "Little Trouble in Big China" (Part 1, Part 2, Part 3, Part 4) "My Friend, Nermal" "Take a Ferret to Lunch" "Bride and Broom" "Problems, Problems, Problems" "Two Times the Trouble" "The Great Trade-Off"

Season 4: "Lion Queen" (Part 1, Part 2, Part 3, Part 4, Part 5) "Bewitched" (Part 1, Part 2, Part 3, Part 4, Part 5) "The Mean Machine" (Part 1, Part 2, Part 3, Part 4, Part 5) "Glitter Gulch" (Part 1, Part 2, Part 3, Part 4, Part 5) "Against All Tides" (Part 1, Part 2, Part 3, Part 4, Part 5) "Lasagna Tree" (Part 1, Part 2, Part 3, Part 4, Part 5) "Into the Wild" (Part 1, Part 2, Part 3, Part 4, Part 5) "Double Vision" "My Cousin Petunia" "Barking Mad" "Garfception" "For Mice" "The Six-Can Solution" "Silence of the Sheep" "Bulldog of Doom" "Mother Owl" "Home Sweet Home" "Whatever Happened to Aunt Ivy?" "Delicious Donut Day" "Little Miss Mouse" "The Stink, Stank, Skunk!" "Jon 2" "The Dog of My Cat" "World Without Me" "Fraidy Cat" "Very Very Long Night"

Season 5: "Rodent Rebellion" (Part 1, Part 2, Part 3, Part 4)