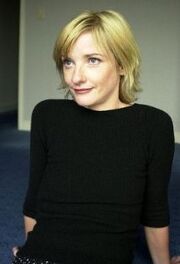 Jane Horrocks is an English actress and singer, known for portraying Bubble from Absolutely Fabulous and the title role of "The Rise and Fall of Little Voice" (1992 play and 1998 film adaptation).
Her other movie and TV credentials include the film version of Roald Dahl's The Witches, Deadly Advice, Chicken Run, Corpse Bride, the Tinker Bell films, Arthur Christmas, Wyrd Sisters, the televised version of Watership Down, Fifi and the Flowertots, The Amazing Mrs. Pritchard, and Trollied. She has also appeared in plays such as Caberet, Macbeth, Absurd Person Singular, The Good Soul of Szechuan, and Annie Get Your Gun.
Horrocks was also the voice of Fenchurch from the radio version of The Hitchhiker's Guide to the Galaxy, as well as a former spokesperson for the British supermarket chain Tesco.
Ad blocker interference detected!
Wikia is a free-to-use site that makes money from advertising. We have a modified experience for viewers using ad blockers

Wikia is not accessible if you've made further modifications. Remove the custom ad blocker rule(s) and the page will load as expected.