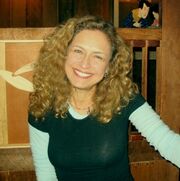 Jeannie Elias is a Canadian voice actress.
Among her best known credentials are The Super Mario Bros. Super Show! (as Princess Toadstool, Shy Guy, and Birdo), As Told by Ginger (as Carl Foutley), and The Oblongs (as Beth Oblong, Creepy Susie, and Mikey Butts). She has also voiced Marcy in Heathcliff: The Movie, Huey Duck in Quack Pack, "Tut" in Tutenstein, Koharu Utatane in Naruto, and Janis in Over the Hedge, as well as characters in the Dennis the Menace and The Pink Panther franchises.
Voiceover
Ad blocker interference detected!
Wikia is a free-to-use site that makes money from advertising. We have a modified experience for viewers using ad blockers

Wikia is not accessible if you've made further modifications. Remove the custom ad blocker rule(s) and the page will load as expected.