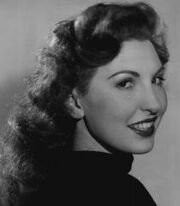 Julie Bennett is an American voice actress. She is best known as Cindy Bear from Yogi Bear,  as well as Warner Brothers Cartoons shorts, including "Strangled Eggs" (as Miss Prissy) and "Transylvania 6-5000" (as Emily and Agatha).
Later, following the death of Linda Gary, Bennett took over the role of Aunt May Parker in the 1994 Spider-Man series.
Voiceover
Ad blocker interference detected!
Wikia is a free-to-use site that makes money from advertising. We have a modified experience for viewers using ad blockers

Wikia is not accessible if you've made further modifications. Remove the custom ad blocker rule(s) and the page will load as expected.