KaBOOM! is an imprint of the comic book publisher BOOM! Studios. Originally named BOOM! Kids, the imprint published comic books based on Disney and Pixar franchises, as well as The Muppets. When rebranded as KaBOOM!, it changed to an all-ages appeal. Comic titles include Peanuts, Ice Age, Wordgirl, Snarked, Herobear, Adventure Time, and Regular Show.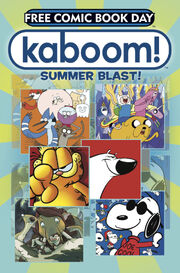 KaBoom! launched the Garfield monthly comic book in May 2012.
Since 2013, Garfield has been featured in Free Comic Book Day specials from BOOM! Studios.
Summer Blast (2013)
Garfield was one of the titles featured in the 2013 edition of Summer Blast, released on Free Comic Book Day, along with Adventure Time, Regular Show, HeroBear and the Kid, Ice Age, and Peanuts. An excerpt from Garfield #1 was featured towards the end of the book.
Summer Blast (2014)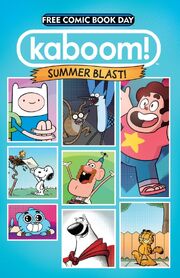 Garfield would appear in the 2014 edition of Summer Blast, also released on Free Comic Book Day. Also featured were the other 2013 entries (except Ice Age), along with newcomers Steven Universe, The Amazing World of Gumball, and Uncle Grandpa. Garfield #15 is featured at the end of the book.
Ten Year Celebration (2015)
The 10th anniversary special from BOOM! Studios includes a story from Garfield, as well as Jim Henson's Labyrinth, Iscariot, Mouse Guard, Adventure Time, Regular Show, Peanuts, Lumberjanes, Munchkin, and Help Us! Great Warrior.
Samples of art
External Links
Ad blocker interference detected!
Wikia is a free-to-use site that makes money from advertising. We have a modified experience for viewers using ad blockers

Wikia is not accessible if you've made further modifications. Remove the custom ad blocker rule(s) and the page will load as expected.