Keith is the muscular assistant director of Betty and Charles at the Comic Studio.
He apparently doesn't say much, having once simply saying "I don't think so" in response to a question from Charles.
During Vetix's invasion of Comic World, he was mixed up with Charles after being hit by the MoScram.
Appearances
Trivia
He appears to be relatively dumb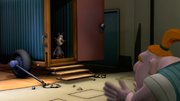 Ad blocker interference detected!
Wikia is a free-to-use site that makes money from advertising. We have a modified experience for viewers using ad blockers

Wikia is not accessible if you've made further modifications. Remove the custom ad blocker rule(s) and the page will load as expected.