Land of Hold is an episode from the second season of The Garfield Show.
Synopsis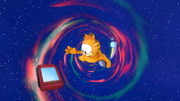 When the TV is out, Jon tries to call a repairman, but keeps getting automated messages. As Garfield waits for a human to call, he goes into a strange dream sequence.
Plot
Characters
Main Characters
Minor Characters
Repairman
Nermal (cameo)
Old Man
Ad blocker interference detected!
Wikia is a free-to-use site that makes money from advertising. We have a modified experience for viewers using ad blockers

Wikia is not accessible if you've made further modifications. Remove the custom ad blocker rule(s) and the page will load as expected.