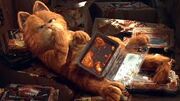 Lasagna is Garfield's favorite food. It was announced on July 15th of 1978, where Garfield described lasagna as "nature's most perfect food."
Appearances
Lasagna makes little appearances in the comic, while regularly appearing in Garfield and Friends. Garfield was seen enjoying this meal in Short Branch Cafe and in Momma's Pizzeria.
It has been seen in both the live movies as well. In Garfield: The Movie, Garfield eats all four boxes of Jon's lasagna. He also eats it, after falling into a truck of it. In Garfield: A Tail of Two Kitties, when Jon is giving the veterinarian Garfield's things, he requests that she feed him a plate of lasagna every day. After the switch, Jon, Liz, and the Prince go to a restaurant and the Prince goes mad when he eats it. At the palace, Garfield helps the animals prepare a platter of lasagna and everyone eats and loves it (until there's one piece left, which Garfield claims).
Even though lasagna is still said to be Garfield's favorite food, it's not mentioned as much nowadays and he is hardly ever seen eating it, as it seems to have been largely replaced by pizza.
Trivia
Jim Davis has stated that he wishes he had made pizza Garfield's favorite rather than lasagna, as he claims that pizza's much easier to draw than lasagna is.
Out of all the female cats related to restaurants from Garfield and Friends , only Mona isn't seen serving Garfield lasagna.
Gallery