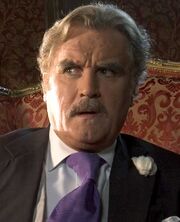 Lord Manfred Dargis is the main antagonist of the second film; he wants to get rid of Prince. He is also the nephew of Prince's former owner. If Prince was to die, he would inherit the throne and the castle.
Appearances
Film
In England, the mistress of Carlyle Castle has died and left her fortune to her cat, Prince. Furious with the outcome, Dargis plots to get rid of Prince by throwing the cat into the River Thames.
Ad blocker interference detected!
Wikia is a free-to-use site that makes money from advertising. We have a modified experience for viewers using ad blockers

Wikia is not accessible if you've made further modifications. Remove the custom ad blocker rule(s) and the page will load as expected.