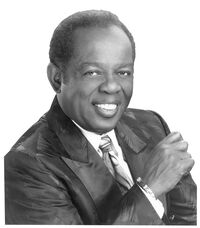 Louis Allen "Lou" Rawls (December 1, 1933 - January 6, 2006) was an American singer, actor, and voice actor.
Among his hit songs are "You'll Never Find Another Love Like Mine", "Love Is a Hurtin' Thing", "Lady Love", "Dead End Street", and "Your Good Thing (Is About to End)".
Rawls was among the members of The Louisiana Gator Boys, a blues supergroup from The Blues Brothers 2000, along with B.B. King.
TV Specials
Just Another Crazy Day
Startin' From Scratch
This is the Night
Scaredy Cat
Hello, Hawaii (Can I Come Over?)
Beauty and the Beach
They Love Us
Hollywood Feels So Good
Gimme, Gimme, Gimme, Gimme
You Can Never Find an Elf When You Need One (with Desirée Goyette)
Make Thanksgiving One Whole Meal
Albums
Here Comes Garfield
Foolin' Around (with Desirée Goyette)
Long About Midnight
Big Fat Hairy Deal
Life Is Just a Roller Coaster Ride
Together Again (with Desirée Goyette)
Ad blocker interference detected!
Wikia is a free-to-use site that makes money from advertising. We have a modified experience for viewers using ad blockers

Wikia is not accessible if you've made further modifications. Remove the custom ad blocker rule(s) and the page will load as expected.