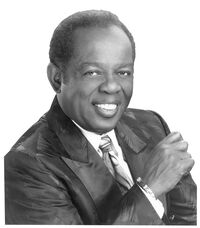 Louis Allen "Lou" Rawls (December 1, 1933 - January 6, 2006) was an American singer, actor, and voice actor.
Among his hit songs are "You'll Never Find Another Love Like Mine", "Love Is a Hurtin' Thing", "Lady Love", "Dead End Street", and "Your Good Thing (Is About to End)".
Rawls was among the members of The Louisiana Gator Boys, a blues supergroup from The Blues Brothers 2000, along with B.B. King.
TV Specials
Albums
Here Comes Garfield
Long About Midnight
Ad blocker interference detected!
Wikia is a free-to-use site that makes money from advertising. We have a modified experience for viewers using ad blockers

Wikia is not accessible if you've made further modifications. Remove the custom ad blocker rule(s) and the page will load as expected.