Welcome to The Garfield Wiki

the Garfield information source anyone can edit.
1,516 articles have been created on this wiki.
Garfield Introduction

Garfield is a comic strip created by Jim Davis. Published since June 19, 1978, it chronicles the life of the title character, the cat Garfield (named after Davis' grandfather); his owner, Jon Arbuckle; and Arbuckle's dog, Odie. As of 2007, it was syndicated in roughly 2,580 newspapers and journals, and held the Guinness World Record for being the world's most widely syndicated comic strip. As of December 16, 2015, the strip has 13,695 issues.

Main Characters

Television

Movies

Other

June Foray (September 18, 1917 - July 26, 2017) was an American voice actress.

As a voice actor, her first known role was Lucifer the cat from Disney's Cinderella. She later became one of the main voice actors for Warner Bros. Cartoons (most notably portraying Granny and Witch Hazel, both originally played by Bea Benaderet) and Jay Ward Productions (voicing Rocky the Flying Squirrel, Natasha Fatale, Ursula, and Nell Fenwick, among others).

Foray has portrayed characters in Garfield and Friends, Garfield Gets a Life, and The Garfield Show. Her work on the latter won her an Emmy Award in 2012.

The Idol of Id is the first segment from the seventy first episode of Garfield and Friends.

Garfield and Odie experience a personality swap, caused by touching a statue, which leads to a couple of misunderstandings.

New pages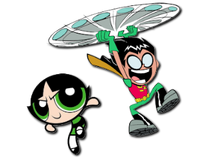 Ad blocker interference detected!
Wikia is a free-to-use site that makes money from advertising. We have a modified experience for viewers using ad blockers

Wikia is not accessible if you've made further modifications. Remove the custom ad blocker rule(s) and the page will load as expected.