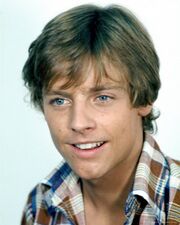 Mark Hamill is an American actor and voice actor.
On screen, Hamill is best known for his role as Luke Skywalker in the Star Wars series. He has also portrayed Kent Murray in General Hospital and Doobie Wheeler in The Texas Wheelers.
A prolific voice actor, Hamill's most notable role is the Joker from several Batman features. His other voice-over appearances include Jeanie, Wizards, SWAT Kats: The Radical Squadron, Full Throttle, The New Woody Woodpecker Show, Danger Rangers, Generator Rex, Scooby-Doo, Adventure Time, Ben 10: Omniverse, Biker Mice from Mars, Bruno the Kid, Teenage Mutant Ninja Turtles (2012 series), Danny Phantom, Codename: Kids Next Door, Battle for Terra, Batman: The Brave and the Bold, Time Squad, Nausicaä of the Valley of the Wind, Avatar: The Last Airbender, Immortal Grand Prix, Metalocalypse, Regular Show, and Motorcity.
Voiceover
Ad blocker interference detected!
Wikia is a free-to-use site that makes money from advertising. We have a modified experience for viewers using ad blockers

Wikia is not accessible if you've made further modifications. Remove the custom ad blocker rule(s) and the page will load as expected.