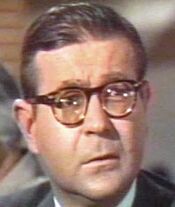 Marvin Kaplan (January 24, 1927 - August 25, 2016) was an American actor and voice actor.
His most notable roles include Alfred Prinzmetal from the radio and TV versions of Meet Millie, Henry Beesmeyer from the sitcom Alice, Frisbee from The Great Race, Mr. Gordon from Becker, and Choo-Choo from Top Cat. He also appeared in Adam's Rib, The Nutty Professor, the 1976 version of Freaky Friday, CB Bears, Saturday Supercade, and the 1992 series On the Air.
He, along with Arnold Stang, played a gas station attendant in It's a Mad, Mad, Mad, Mad World.
Ad blocker interference detected!
Wikia is a free-to-use site that makes money from advertising. We have a modified experience for viewers using ad blockers

Wikia is not accessible if you've made further modifications. Remove the custom ad blocker rule(s) and the page will load as expected.