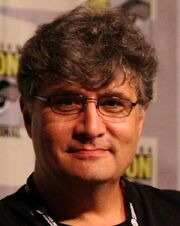 Maurice LaMarche is a Canadian voice actor and former stand-up comedian.
Among his many televised animation credentials are Inspector Gadget, The Real Ghostbusters, Dennis the Menace (1986), Popeye and Son, Tiny Toon Adventures, The Critic, The Tick, Animaniacs, Pinky and the Brain, The Simpsons, Hey Arnold!, King of the Hill, Dilbert, Queer Duck, Futurama, Sonic Underground, House of Mouse, Codename: Kids Next Door, Catscratch, My Gym Partner's a Monkey, Super Hero Squad Show, Dan Vs., Adventure Time, Robot and Monster, Rick and Morty, The 7D, and Penn Zero: Part Time Hero.
He can be heard in movies such as Rock and Rule, Cool World, Ed Wood, Space Jam, Pom Poko, Wreck-It Ralph, Frozen and The Boxtrolls.
He is well known for his voice impression of Orson Welles, and has often portrayed Yosemite Sam (among others) in modern Looney Tunes features.
Voiceover
Ad blocker interference detected!
Wikia is a free-to-use site that makes money from advertising. We have a modified experience for viewers using ad blockers

Wikia is not accessible if you've made further modifications. Remove the custom ad blocker rule(s) and the page will load as expected.