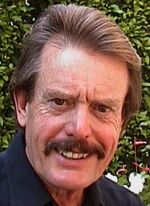 Neil Ross (born 31 December 1944) is an English-born American voice actor and announcer. He was one of the major voice talents behind The Transformers, voicing characters such as Bonecrusher, Hook, Slag, and Springer, and notably portrayed Norman Osborn/The Green Goblin in several Spider-Man animated series.
He has also voiced characters in shows such as G.I. Joe: A Real American Hero, Voltron, Inhumanoids, Pryde of the X-Men, The Legend of Prince Valiant, Iron Man (1994 series), SWAT Kats: The Radical Squadron, Rugrats, Codename: Kids Next Door, and Avengers: Earth's Mightiest Heroes. In video games, he can be heard in Star Wars (often as Han Solo), Spyro the Dragon, Mass Effect, and Leisure Suit Larry.
His movie contributions include Back to the Future II, Quiz Show, and The Spongebob Squarepants Movie. He has also narrated for documentary series such as Biography and NOVA, and announced for Game Show Network and the Oscars.
Voiceover
DTV Movies
External Links
Ad blocker interference detected!
Wikia is a free-to-use site that makes money from advertising. We have a modified experience for viewers using ad blockers

Wikia is not accessible if you've made further modifications. Remove the custom ad blocker rule(s) and the page will load as expected.