Norma (voiced by Tress MacNeille) was one of Jon's dates. She was a fan of the show "National Knights", and especially Boulder. In an attempt to impress her, Jon tried get tickets for them to see the show live, but ends challenging Boulder instead. Norma is surprised to see Jon in the arena, and amazed after he prevails in the fight. Much to her disappointment, Jon is unwilling to engage in another fight.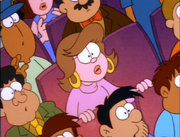 Appearances
Season 6
Ad blocker interference detected!
Wikia is a free-to-use site that makes money from advertising. We have a modified experience for viewers using ad blockers

Wikia is not accessible if you've made further modifications. Remove the custom ad blocker rule(s) and the page will load as expected.