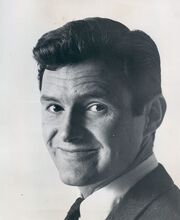 Orson Bean (born July 22, 1928) is an American actor.
He is known for roles such as Toby Marshall from How to Be Very, Very Popular, William Sawyer from Miracle on 34th Street, Hank Morgan from the 1970 version of A Connecticut Yankee in King Arthur's Court, Bilbo and Frodo Baggins from the Rankin/Bass adaptations of The Lord of the Rings, Loren Bray from Dr. Quinn, Medicine Woman, Bill Gamble Sr. from Normal, Ohio, and Roy Bender from Desperate Housewives.
A regular in talk shows, he has appeared in the Jack Paar and Johnny Carson versions of The Tonight Show, as well as on shows with Ed Sullivan, Jackie Gleason, David Frost, Mike Douglas, Merv Griffin, and Alan Thicke.
As a game show panelist, he is best known for appearing in To Tell the Truth. His other game show credentials include What's My Line?, I've Got a Secret, Match Game, Tattletales, Pyramid, Super Password, and Body Language. He hosted for a 1963 episode of To Tell the Truth and the 1985 pilot for what would become Classic Concentration.
TV Specials