Pampered Pussycat is an episode from the second season of The Garfield Show.
Synopsis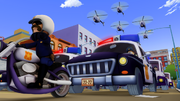 After running into a wealthy cat who is out loose, Garfield and Odie show him how to have fun.
Plot
Characters
Main Characters
Major Characters
Minor Characters
Trivia
This episode marks the third time where Garfield says "Get me an attorney! Get me an attorney named Murray!" in the series, following Orange and Black and The Spy Who Fed Me.
Goofs
On Netflix, this episode's subtitles misspells Dawes' name as "Doth".
Ad blocker interference detected!
Wikia is a free-to-use site that makes money from advertising. We have a modified experience for viewers using ad blockers

Wikia is not accessible if you've made further modifications. Remove the custom ad blocker rule(s) and the page will load as expected.